Clear Plastic Candy Tubes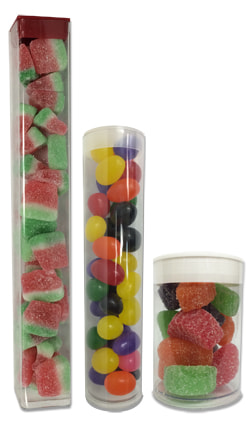 Candy companies are opting to use clear plastic candy tubes as a savable and reusable package for hard candies, gumballs, popcorn, etc. Our clear plastic sealed-bottom tubes protect the contents, prolongs the freshness and provides a crystal clear and very appealing visual for retail use.
Clear plastic candy tubes are available in FDA approved Cellulose Acetate Propionate material and are manufactured in various shapes and customizable lengths. Added decorative offset printing or labeling can be applied for product identification and brand awareness.
Call Petro Packaging today and one of our tube experts will assist in choosing the proper configuration for your product.