Clear Plastic Candy Tubes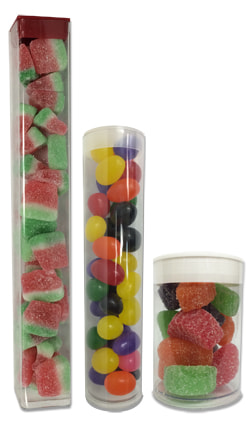 Candy companies are opting to use clear plastic candy tubes as a savable and reusable package for hard candies, gumballs, popcorn, etc. Our clear plastic sealed-bottom tubes protect the contents, prolongs the freshness and provides a crystal clear and very appealing visual for retail use.
Clear plastic candy tubes are available in FDA approved Cellulose Acetate Propionate material and are manufactured in various shapes and customizable lengths. Added decorative offset printing or labeling can be applied for product identification and brand awareness.
Why Use Clear Candy Tubes?
If you're purchasing packaging for your candies, here are a few reasons to consider looking into clear candy tubes.
Marketing
Nothing sells candy more than the candy itself! By putting candy in clear containers, you essentially get free marketing of your product when it sits on the shelf.
People like to see what they're going to eat, and taking good photos of food can help boost food sales. But instead of needing photos and labels, you let the candy speak for itself!
Additionally, you can show off the high quality of the food you're selling directly. Pictures can sometimes be deceiving, but by showing consumers exactly what they'll get, they will feel more confident with their purchases. Confident customers are happy customers!
Reusability
Our Clear Plastic Sealed-Bottom Tubes are reusable packages, making them excellent for both retailers and consumers. These clear candy tube containers are available in FDA approved Cellulose Acetate Propionate material and are manufactured in various shapes and customizable lengths.
Retailers, restaurants, and other businesses can use this candy packaging as an alternative to disposable candy wrappers, particularly if they purchase their candy in bulk. It won't be feasible for all types of candy of course, but it can be easier than having to use lots of disposable bags.
And adults and kids will both be happy to have another hard container they can reuse, particularly if you get a custom size that works well for other purposes. Kids love storing all sorts of things in sealed containers, and adults will be happy not to necessarily contribute to landfills right away.
Easy Labeling
Our clear candy containers are a blank slate, giving you nearly endless options for your labeling choices! Instead of having to make sure your label design doesn't clash with the packaging and colors, you can design your labels exactly how you want them.
The best part is, we can do the printing for you! We offer added decorative offset printing or labeling options for your tubes, so you can market your products the way you want.
Your options will be constrained by the size of tube you purchase, so make sure your marketing team is on board with your decisions! As always, we're happy to help you pick a custom tube size to fit both your product and your labeling needs. Don't feel the need to constrain your choices on our account!
Customization
We know we've said it before, but with Petro Packaging, you can customize your tubes and containers however you want!
If our wide range of available plastic tube sizes doesn't quite have what you're looking for, don't fret! Our team of engineers will be happy to discuss whatever sizes and shapes you require for your candy storage needs.
Our goal is to provide you the best service possible, and that includes giving you exactly the size of tube, container, or package you require. Let us know what you need, and we'll make something work.
Order Your Clear Candy Tubes Today!
If you're interested in finding out more about our clear candy tubes, or maybe purchasing some for your business, we'd love to help! Even if you're interested in something besides candy tubes, we've got you covered.
Feel free to contact Petro Packaging today, and one of our tube experts will be happy to assist in choosing the proper configuration for your product.