Keep Your Cigars Fresh With Clear Plastic Cigar Tubes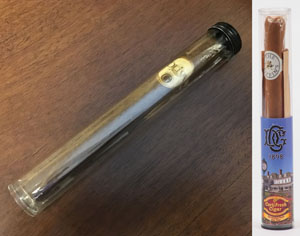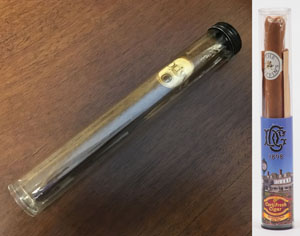 Cigar experts around the world have discovered that clear plastic cigar tubes with removable caps are the perfect solution to keep cigars fresh, protect them during shipping, and create a one-of-a-kind cigar display that stands out above the competition. Petro's clear plastic cigar tubes help maintain a more consistent temperature and humidity for your cigar. Petro cigar tubes can be manufactured as regular sealed bottom tubes with caps and plugs to fit, or with one end metal threaded caps to accommodate a black metal or nickel-plated cap. Clear plastic cigar tubes are an economical alternative to aluminum or glass tubes. Custom diameters and lengths are available for cigars of every shape and size!
Plastic Cigar Tubes Keep Hydration Out
Maintaining cigar humidity and cigar temperature is essential to keeping your cigars fresh. Our plastic cigar tubes do both and will keep them fresh throughout the cigar shipping process.
Tightly sealed tubes keep moisture out with impermeable plastic. All our tubes use Tenite™ CAP (also known as Cellulose Acetate Propionate), which is both sturdy and FDA-approved for food and pharmaceuticals.
Considering glass or aluminum packaging? Plastic beats other materials for cigar transport in both quality and value. More sustainable than aluminum and cheaper than glass, plastic tubes are incomparable.
Plastic Cigar Tubes with Caps
We secure each of our plastic cigar tubes with caps that are high-quality and durable. Our selection offers four styles of caps and plugs. With plenty of shapes and materials to choose from, there's a cap to match your packaging needs.
You'll want maximum protection for your valuable cigars. Because of this, we recommend our metal-threaded caps for cigar transport. Designed for loose objects, this cap adds extra security and protection for cigar shipping.
Customizable Sizes
Whatever the length of your cigar, Petro Packaging has plastic cigar tubes for you. We know your cigars come in all shapes and sizes. Our tubes use custom diameters and lengths, available for all cigars.
Our cigar tubes are made-to-order, meaning you'll never have to compromise for a package too small or too big for your cigar within our inventory. When you order from us, we'll deliver the model you require.
Plastic Cigar Tubes in Bulk or Batches
For orders large and small, our team handles your plastic cigar tubes with our trademark care. Our sales team works one-on-one with every customer to discover your exact needs. Once we know what you're looking for, we'll meet and exceed your expectations. We'll give our professional opinion, and cater the size of your order.
Want to test out our tubes before you send them out? We offer samples to customers to try before you buy. Whether you start with one tube or a hundred, our team is happy to accommodate.
Request a Quote or Sample Today
Plastic cigar tubes are the best option for your cigar shipping needs. With protection from humidity and temperature and flexible sizes, we're the perfect choice for your cigars.
Learn firsthand why our customers choose Petro Packaging. Request a free sample or quote today.