Promotional Golf Ball Tubes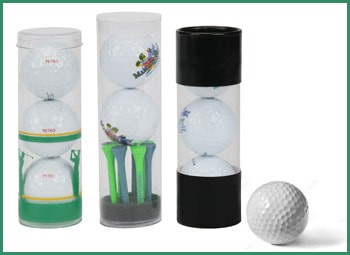 Tee off your next great marketing campaign with our promotional golf ball tubes! Promotional companies count on Petro Packaging as their reliable supplier of custom plastic tubes for golf balls. We provide 1 ¾" diameter clear thin-wall sealed bottom tubes in all custom lengths tailored to fit the featured products inside.   Gift pack ideas include not only golf balls, but also tees, ball markers, and divot tools.   Here are some of the benefits of Petro Packaging's promotional golf ball tubes:
Attractive gift packages that make great prizes!
Uniquely packaged giveaways!
Perfect for golf outings, sporting events, conventions and trade shows!
Crystal Clear to showcase personalized and specialty golf balls!
Custom printing available!
Petro Packaging's most popular Golf Ball Tubes: 3 BALL TUBE: 1 ¾" X 5 ¼" OL Clear Flexible Propionate Shell Vial with poly Plugs or clear slip-on caps 2 BALL + TEES TUBE: 1 ¾" x 5 ¾" OL clear flexible propionate shell vial with poly plugs or clear slip-on caps