Our Rigid Clear Plastic Tubing Options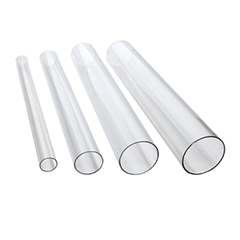 Find out more about our rigid clear plastic tubing options, including open- and closed-bottom round and shaped tubes, available for diverse uses. Contact Us Now
Industries That Use Clear Plastic Tubing and Applications It Is Used In
Thousands of industries today use plastic tubing, including:
Food & Beverage
Health & Beauty
Pharmaceuticals
Stationery
Wine & Spirits
Promo & Club Packs
Cell Phone
Apparel
In-Store Marketing POP
Home Entertainment
These industries and many others use rigid plastic tubing in many applications, such as automobiles, for packaging, toy making, food conservation, and much more. In this article, we will explore some of the numerous clear plastic tubing options available today. So let's just jump right in.
Candy Containers
If you go down the candy aisle at the grocery store, you will notice multiple clear plastic tube packaging for some of the candy. It is a perfect option for candy packaging since you can see the candy inside, which is great for marketing promotions since, after seeing the actual candy, you may not be able to pass it up. Another thing that makes it an excellent choice for packaging candy is that you can create packaging with fun designs and top it off with a colorful or themed topper, making clear plastic tubing an even better choice for novelty items and seasonal festive packaging.
Bead Containers
There are some items that consumers may want to see before purchasing, beads are one of them. It is common for beads and beading materials to come in see-thru packages. In fact, if you pay a visit to a shop that sells beading items, you will find there are hundreds of clear plastic containers housing beads of all colors, shapes, and sizes. You may also notice that while some tubes are flexible, others may have stiff durable sides.
Toy Containers
Toy containers are another fun and exciting way to use rigid clear tubing as it allows consumers to actually see the toy inside the package. Toy packaging has flexible sides and is often used for smaller toys like cars, animals, or army men.
Mail Tubes
Mail tubes are the clear, sturdy plastic tubes that shoot up and down through a larger plastic mail chute tube that you send or receive cash or documents in at a bank drive-thru. While these tubes also have a wide variety of other uses, they are most commonly used at bank drive-thrus.
Paint Tubes
Because of its flexible sides and see-thru features that help customers see the exact color of the paint, clear tubes are ideal for containing paint. These tubes usually include a nozzle attached to the end, used for dispensing the paint. This feature, along with its flexibility, allows the paint to be used directly from the tube.
Clear Tube Packaging
Clear cylinders and plastic tubes allow customers to see what's inside as clear tube packaging provides high visibility to packaged products. Translucent and opaque print, showcase brand information and eye-catching graphics that can improve how consumers view your brand.
Clear Folding Boxes and Cartons
Clear plastic cartons and boxes really stand out on a store shelf. Transparent packaging also can be custom designed with a wide range of decorative options, semi-rigid bag configurations, and unlimited box styles.
Clear Plastic Packaging Tubes
Petro Packaging Co. Inc uses the finest raw materials available to manufacture seamless, shatterproof, thin wall, semi-rigid, crystal clear containers. These containers are cost-effective, convenient, and extremely lightweight. Our flexible containers allow your product to shine right through while protecting its integrity, optimizing its visual impact, and providing maximum protection against dirt and dust. These containers are offered either open-ended or with a sealed bottom. Thus, when paired with our plugs and caps, they become perfectly reusable packages.
Sealed Bottom Clear Plastic Tubes
Our most popular plastic packaging tubes are sealed bottom clear plastic tubes. These packages are made-to-order by applying a clear plastic base on one side to create a permanent and strong seal and applying a corresponding plug or cap to the open end. Customers can specify the package length so their product will fit perfectly inside. Applying just one plug or cap reduces assembly and labor costs, making it an ideal economical solution for all applications types.
Types of sealed bottom plastic tubes we have available:
Round sealed bottom plastic tubes
Threaded sealed bottom plastic tubes
Shaped sealed bottom plastic tubes
Open-Ended Clear Plastic Tubes
Open-ended plastic tubes close each end using two plug caps for a more symmetrical look. They are sold in 18" prepackaged cases or they can also be made-to-order, allowing the customer to specify the tube length. A customer can order open-ended plastic tubes by the case, and then use a pair of scissors to cut the tubes down to their desired length. In fact, prepackaged cases are ideal for customers who require small quantities of tubes that vary in length or for those who are not sure of the length requirements.
Types of open-ended plastic tubes we have available:
Round open-ended plastic tubes
Shaped open-ended plastic tubes
Get Clear Plastic Tubing From A Trusted Source
Petro Packaging Company is a family-owned and operated business based in New Jersey. Our team has forty-plus years of experience in the plastics industry and is committed to processing multiple types of thermoplastic materials. We offer a comprehensive selection of plastic tubing used for many applications in diverse industries, such as:
Cosmetic
POP display
Medical
Arts and crafts
Mailing and shipping
cutting tools
Golf ball displays
Toys and games
and more
There are a number of things that set us apart from the rest, including providing quality products, keeping up with customer requirements, maintaining a personal relationship with our clients, and keeping you updated regarding the manufacturing of your products and your shipping timeline. We accept both large and small orders all of which are handled with excellence and professionalism.
Our sales team is knowledgeable and works closely with all our customers ensuring their needs are met. We also have a team of highly experienced engineers that help with the research, development, and design of every product. Not to mention they are capable of designing and manufacturing in-house extrusion tooling.
Our sales representatives are ready to answer your questions and accommodate your special requests. Call 908-272-4054 to schedule a free consultation.