Triangular Plastic Extrusion: Custom Options & Uses
Whether you're putting up signage or some task, you might want to invest in triangular plastic extrusions.
These handy PVC extruded tubes can have a number of different applications. That's across automotive, electronics, bridge decking, telecommunications, and other industries. That makes them an extremely versatile plastic tube!
If you're interested in learning more about how a triangular plastic extrusion could help your next project, keep reading. Petro Packaging is stocked full of everything you need when it comes to extrusions.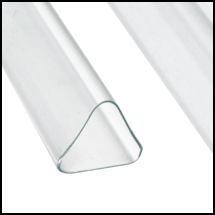 What Are Triangular Plastic Extrusions?
Before we jump into the plastic extrusions offered at Petro Packaging, let's take a look at what these actually are. After all, it's important to know exactly what you're buying before making a big purchase.
Plastic extrusions are plastic tube solutions that are used to line and protect shelves and other materials. They're ideal for keeping hard edges covered so that you can protect people who are handling that particular piece of material.
You can use triangular plastic extrusions for a number of different purposes. A few common uses for this type of extrusion include:
To support POS signs
As brackets
As shelving edges
On corner guards
Regardless of what purpose you have for purchasing triangular plastic extrusions, you can count on the team at Petro Packaging to make them correctly. You know that they'll make high-quality packaging solutions that help you complete your project.
How Are Triangular Plastic Extrusions Made?
To make plastic extrusions, manufacturers push a raw polymer through a hopper and then through a feed throat that works on a rotating screw. The screw's rotations are pushed by an electric motor.
The design and size of the screw will depend on exactly what type of plastic extrusion the manufacturer is making. Regardless of the design of the screw, its rotation forces the polymer through a hot barrel.
As the plastic moves through the barrel, the screw's thread decreases and compresses the plastic. As this happens, several PID controllers heat the barrel containing the plastic, melting it and mixing it together.
Once the plastic is pushed past the end of the screw, it's a well-mixed product. Manufacturers then push the plastic through the die to create the final shape and design of the plastic.
At this point in the process, the triangular plastic extrusions get packed up and sent out to their customers. From there, they can be used for a variety of different applications.
Triangular Plastic Extrusions at Petro Packaging
Now that you know a bit more about triangular plastic extrusions in general, let's talk about the ones that Petro Packaging has to offer. Our plastic extrusions have plenty to offer that you won't find anywhere else!
Varied Materials
Although all plastic extrusions are made out of raw polymers, they're not made out of the same type of polymer. The type of polymer you choose to use in your triangular extrusions will depend on what application you have in mind for the final product.
Many companies only offer a single type of polymer. That makes it tough to create plastic extrusions that really get the job done and help you complete your projects.
Petro Packaging, however, offers several different types of plastic extrusion materials. You can choose from:
PETG Copolymer (Polyethylene Terephthalate Glycol)
Tenite™ CAB (Cellulose Acetate Butyrate)
Clear Tenite™ CAP (Cellulose Acetate Propionate)
While those are our specialties, however, they're not the only types of plastics that we can work with. Just give us a call to learn more about the different types of polymers that we can work with.
Customized Products
It's not just the wide range of plastics that makes Petro Packaging the go-to for triangular plastic extrusions. Another reason why Petro Packaging's extrusions are so unique is that everyone has different needs.
To accommodate the many uses that people have for plastic extrusions, we let you design exactly what you're looking for. You can order completely custom triangular plastic extrusions that perfectly fit your purpose.
Our process starts when you get in touch with us to learn more about our triangular plastic extrusions. From there, we give you advice and guidance. That way, we help ensure that your triangular plastic extrusions will perfectly fit your project.
Next, our team partners with you to create the perfect measurements for your triangular plastic extrusions. We also help you select the right material so that you can get the best possible plastic extrusion.
Years of Experience
Finally, Petro Packaging creates unique triangular extrusions thanks to our years of experience. When you work with us, you know that you're getting fantastic, high-quality products that will make a difference to your project.
The reason for that is that our team has over 50 years of experience under our belts. That means that we understand how to design and manufacture triangular plastic extrusions that work correctly no matter what application you're using them for.
What's more, all those years of experience have given us tricks of the trade that make sure we're producing high-quality products. When you get triangular plastic extrusions from Petro Packaging you know that you're getting a product that's been created by true professionals.
Purchase Your Trianglur Plastic Extrusion Today
With this guide to triangular plastic extrusion options at Petro Packaging, you'll be fully prepared for your next project. You'll have no problem using triangular plastic extrusions to your benefit in tons of ways!
So, are you ready to invest in some plastic extrusions of your own? Get in touch with our team and we'll help you place an order for triangular plastic extrusions!