Clear Mailing Tubes At Petro Packaging Inc.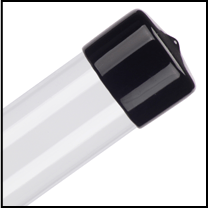 Finding the perfect mailing container for your products can seem like an endless search. In particular, businesses that send out delicate paper, laminated, or cardboard items face this challenge. If you're one such business, then you may be familiar with customers complaining that items were damaged during transit.
Many mail-order businesses counteract this issue by opting for mailing tubes. They're a sturdy solution where fragile items can be safely rolled up and sent crease-free. When thinking about these mailing tubes, most people conjure up the image of a brown cardboard tube with a plastic cap in each end. Anyone who ever ordered a poster or wall art from the internet will undoubtedly have received it in one of these cardboard containers.
While cardboard has its advantages, it also comes with its downsides. Many people will have accidentally stepped on and bent one of these tubes. Some will have arrived home to find their order sitting on the doorstep wet from the day's rain. Cardboard tubes are also prone to receiving punctures from sharp objects, which can damage the contents.
A Better Option for Mailing
If you're still searching for something better to ship your items in, then you'll be happy to hear there is a better option than cardboard. Petro Packaging Company Inc's clear mailing tubes are made from Tenite plastic. Our clear mailing tubes offer a sturdy, tough, crystal clear packaging solution that can be customized to your needs.
Our clear plastic mailing tubes are available in the following sizes:
1 ½" x 8" Lts. Open End Tube with vinyl caps
2" x 10" Lts. Open End Tube with vinyl caps
2 ½" x 12" Lts. Open End Tube with vinyl caps
Weighing less than 16oz, clear plastic mailers can be sent Priority Mail, Priority Mail Express, and even USPS First Class. They are also suitable for international delivery.
While crystal clear is the most popular choice, the tubes can be opaque colors, making them particularly useful if you're sending something that requires privacy.
The Benefits of Clear Mailing Tubes
As well as being an affordable mailing solution, clear mailing tubes off the following benefits:
The tough material protects the contents from damage. These tubes will even stand up to being stepped on.
The material is 100% weatherproof. Our tubes will withstand even the harshest weather conditions.
They can withstand rough handling. They can stand up to being thrown without damaging the contents.
The clear mailing tubes offer your customers a unique and interesting way to receive their orders. They also provide an engaging way for you to package products.
The contents can be seen from outside, which means that businesses have the opportunity to display advertising or other information from within the tube.
Unlike cardboard, the tubes can be reused over and over again without degrading or being damaged.
They're not limited to light paper items. The tubes can contain heavier objects than businesses would typically send in cardboard tubes.
Plastic mailing tubes are always arranged on top of the mail pile, which means they're dealt with first.
Petro Packaging's Promise
Petro Packaging Company Inc is a renowned name in the plastics industry. Having established ourselves in the '60s by pioneering the use of CAP, CAB, and PETG packaging, we have grown to offer our customers the most extensive selection of extrusions available within the industry.
Our family-owned business has a reputation for offering a high level of excellence to our customers. From the smallest order to huge custom deliveries, you will receive the very best in service, high-quality products, and a level of expertise that ensures your needs are fully met.
As well as clear mailing tubes, Petro Packaging Company Inc manufactures and provides a multitude of different clear packaging tubes, plastic extrusions, and a huge range of caps and plugs to complete your design.
Stop suffering from damage and losses by using cardboard mailing tubes. Make the switch to our strong, long-lasting clear mailing tubes and send your items with the full peace of mind they'll arrive undamaged. Your customers will love them and appreciate the extra effort your business has made towards customer satisfaction.
Get in touch today and discover the advantages of switching to a sturdier product. To find out more about Petro Packaging Company Inc and the products we offer, including clear mailing tubes, head over to our website where you will find out more information, including our contact details. Can't find what you need? Talk to us, and we can discuss the possibility of a custom order to fulfill your requirements.