Petro Packaging's Clear Plastic Joiners Are A Key Component In The Fabrication Of Protective Shielding For New Covid-19 Guidelines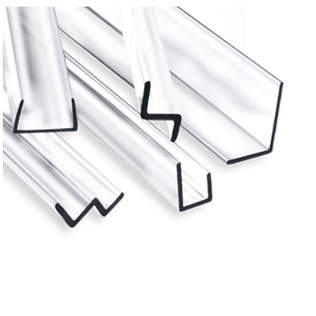 The entire country is keen for their businesses to get back up and running again. It's crucial to the survival of many smaller companies as well as the overall economy. But all businesses, whether large or small, must adjust to a new "normal" by keeping their staff and customers protected and ensuring that social distancing is maintained.
One key way to adhere to the new Covid-19 rules is by installing clear PETG shields at customer-facing points, such as checkout counters and information desks. This is especially important in the retail sector, which sees a large number of customers daily. PETG creates a full barrier between the employee and customer while still allowing a business transaction or conversation to take place. This means that employees feel safe to continue their job and customers can continue shopping with minimized risk.
Plastic Joiner Sections Help Create Strong Barriers
Installing the PETG shields has been made easy thanks to plastic joiners that come in a variety of stock extrusion shapes. A two, three, or four way channel joiner can easily connect panels of PETG to create a strong and impenetrable barrier. The choice of shapes can be used to fit seamlessly on or around any type and shape of desk or counter.
Plastic joiners have the advantage of being extremely durable and strong. They are made from either PETG (Polyethylene Terephthalate Glycol) plastic or Tenite™ CAB (Cellulose Acetate Butyrate) plastic. Each type comes with a range of advantages, such as crystal clarity, chemical resistance, ease of fabrication, and bondability.
Introducing Petro Packaging Company Inc.
We at Petro Packaging Co. Inc. have been delivering standard and custom extrusions to our customers for over forty years, and we're equally proud to be a family run business spanning three generations. All of our plastic joiner extrusions are manufactured and created here in the USA, so we can supply our customers quickly and always provide top-level service.
We understand how urgent it is for your business to get back up and running again as soon as possible, and we can make that easier for you by providing the materials you need to create a safe working environment for all involved.
Our selection of high-quality plastic joiner sections are available in a variety of configurations that can be bonded to two, three or four clear PETG panels, to provide the necessary protection at the point of purchase. The extrusions are available from stock in eight foot lengths for immediate shipment, so you don't have to wait to get your shields installed or delay the opening of your business. Additionally, custom runs can be made for exact cut to order lengths.  Take a look at our comprehensive selection of stock plastic joiners here. If you can't find what you're looking for, then a custom extrusion may be exactly what you need. Whether it's a stock or custom requirement, we will work with you to determine the best option for your requirements.
Getting in Touch
At Petro Packaging Company Inc, we've made it as easy as possible to get what you need in double-quick time. All our stock joiners are available to buy immediately, so you can either call us at 908.272.4054 or email us at [email protected]. Alternatively, you can complete our online form to request either a quote or a sample.
If you have questions about our plastic joiners or any of our other custom extruded products, please do not hesitate to get in touch. Our team is always available to answer your questions, address any concerns, or recommend the best product for your needs. We pride ourselves on exceptional customer service!
One thing is for sure, we're all going to need to do our part to keep everyone as safe as possible from the threat of Covid-19.  Creating tough, sturdy barriers for your employees and customers is one of the best methods to do this. In situations like this, it isn't worth taking risks or short-cuts. Choosing strong and quality materials from a reputable company like Petro Packaging Company Inc will guarantee an environment that's fully shielded from the risk of Covid-19.
We hope that all businesses can reopen and return to some state of normality, and we hope that in our own small way Petro Packaging can help make this happen. Contact us for more information and a fast solution according to your specific extrusion needs.