Clear Plastic Tubes and Extrusions Made in the USA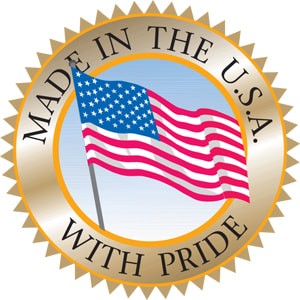 "Domestic manufacturing is making a comeback!" This statement was featured in an article from Manufacturing Business Technology Magazine where they highlighted four key predictions on the future of plastics manufacturing in the United States. As the global market is changing, companies in the U.S. have discovered that it is no longer profitable to buy products overseas, and this is great news for Petro Packaging. All of our clear plastic tubes and extrusions manufacturing has been done here in Cranford, NJ USA for the past 60+ years and we're keeping it that way.
More and more U.S. companies are seeking local manufacturers like Petro Packaging for their custom clear plastic tubes, caps, profile extrusions, etc. Injection molding is a basic yet extremely reliable manufacturing process. Our customers trust and rely upon us as a reputable manufacturer providing superior quality and exceptional customer service.
With decades of service to New Jersey and beyond, Petro Packaging is one of the top plastic tube manufacturers in the USA. We embody all the reasons why domestic plastic tube manufacturers are the way to go.
Read on to learn why domestic manufacturers like those at Petro Packaging are right for your business.
Easy Communication
Buying domestic eliminates the need to deal with communication barriers like language and drastic shifts in time zone. For an industry as customizable as plastic tubes, ease of communication is essential.
Domestic manufacturers like Petro Packaging offer real conversations with real people while coordinating your orders. Call most domestic manufacturers any time during business hours for human-centered customer support.
We make all our plastic tubes to order. From clear plastic cigar tubes to golf ball holders, we'll communicate with you every step of the way to carefully cater your plastic tubes to your product. Check out our comprehensive plastic tube listings for more info about sizes.
Consistent, Efficient Quality
When you buy domestic, you get a product that will ship to your business within days of manufacturing, without fear of getting lost in international transport. It's this lack of customs and international shipping time that makes product delivery one of the biggest pros of domestic manufacturing.
We receive glowing manufacturer reviews from our clients for our consistent quality and rapid service. Every one of our orders matches our strict standards and gets to you within the time you requested.
A Legacy of Local Service
Finally, plastic tube manufacturers in the USA are locally owned and trusted. Buying domestic is the perfect way to avoid shady overseas partners.
Petro Packaging is a third-generation, family-owned company based in Northern New Jersey. Through decades of growth, we've kept our local values and commitment to service in our community.
We have a storied history here in New Jersey. In the 60s, we made groundbreaking discoveries on the use of CAB, CAP, and PETG materials in extrusion. Now, we continue that passion for innovation into the 21st Century.
You'll never have to worry about us outsourcing your order. We manufacture all our products in Cranford, NJ, and we plan to keep it that way.
Shop From Plastic Tube Manufacturers in the USA Today
The time is now to switch to a domestic manufacturer. With no barriers to communication, speedy service, and brands you can trust, there's every reason to buy local.
For the best plastic tube manufacturers in the USA, look no further than Petro Packaging. Request a free quote or sample today.